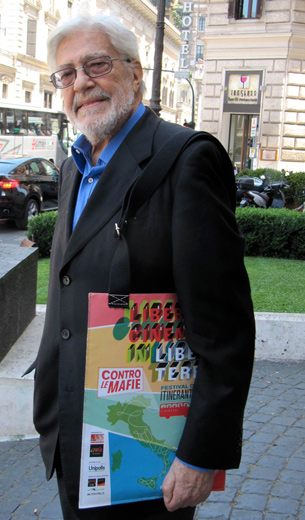 Ettore Scola, Honorary President Cinemovel Foundaton, interviewed by Nicoletta del Pesco for Notebook Ilaria Alpi Awards Africa & Mid (EGA press, 2009).
What prompted one of the masters of Italian cinema to be involved in the travelling cinema project run by Cinemovel?
It's a personal memory that made me appreciate Cinemovel: I was born in a small mountainous village with 600 inhabitants, where every year a lorry brought cinema. The first time I was just four years old and I was impatient to get into the square with the stool to sit on during the show. There was a strong and cold wind, the screen at the centre of the village was shattered by the wind like a sail. This movement was transmitted into the film, but it didn't bother us, it was just an added element. They screened Laurel and Hardy's Fra' Diavolo. No one laughed, the ceremony was so sacred and everyone was outstretched, alert, almost worried, laughing would have sounded like a mock. The first cinema show I saw was a comic film with very serious spectators, which is a characteristic of my cinema: satirical, humoristic, but actually serious in the end.
In the world there are many contexts that recall what Italy was seventy years ago: back then, cultural life was very poor, the radio was that of the regime, it was forbidden to freely manifest one's own ideas, just like it happens today in some countries where communication is not allowed, or it's scarce or non-existent. Cinemovel is an initiative, even if small, which has a cultural meaning and a strong impact in the countries where it takes place. In the film that came out from this experience, Mozambique where cinema goes* by Nello Ferrieri, the faces of the children that gaze at the screen in the dark show the amazement of being able to see themselves on the screen, this is even stronger than seeing the film itself. The short documentaries shot on the spot, in which the community recognises itself, are a revolutionary experience. The subsequent projection of the film makes us understand that beside the mirror, there is also a window to look through.
Real travel or travel in time or history are recurrent themes in your work, I am thinking of Il Sorpasso (1962) of which you wrote the screenplay, or La Congiuntura (1964), La Famiglia (1987) and many others; what is behind this choice?
One could say that I've always done the same film, the themes are two or three. First of all there is time, which has fascinated me since I was young. The contemporarity of time: chronological time flows away, but in actual facts we keep living experiences that have already occurred and that will happen again in the future. The important thing is the relationship between people and the facts that happen above them. If you read "The Parallel Lives" by Plutarch you'd be amazed to see that what happened to Caesar is actually similar to what still happens today to men with power.
I also like to work with another theme: history, starting with the small events that are concerned with common people and their relationship with the bigger picture of history. This is the level that I am interested in, for example with French Revolution for Il mondo nuovo or fascism for Una giornata particolare; decisions are being made somewhere else and stay in the background, what prevails is the history of humanity, the real and absolute history, that in which men are stronger than their dictators.
It's not common for Italian authors to make films abroad; what took you to Angola to shoot Riusciranno i nostri eroi a ritrovare l'amico misteriosamente scomparso in Africa?
In actual facts I never started out with the location, the inspiration for Riusciranno i nostri eroi… came from reading Salgari, Verne and Conrad as a young boy. Since those were wealthy times for cinema, we made surveys according to the subject, then we wrote the script, so I travelled in Africa from Kenya to South Africa and Chad. In Angola I found what I was after: a setting in evolution. The Portuguese colonial rule was declining and living with guerrilla, independence was still far away. People lived in a sort of suspended time and waited. Luanda was modern and not far from it there were wild tribes like the Mukubu, that featured in the film. This tribe had never seen a lorry or cars, when we transported the troupe with the minibus they were terrified, they screamed, it was their first trip. In Angola it took centuries to travel just few km.
Your film Brutti sporchi e cattivi (1976) depicted poorest communities in a way that was quite merciless; would you run the risk, today, to make a similar film with immigrants as protagonists?
Immigration is a new theme. Today the interest for this kind of topics has decreased, there are no producers interested to make films on controversial topics. In actual facts, it wasn't easy even in the past. If in 1973 I had asked to a producer to make a film about Fiat's workers and piecework, themes of the political events of those times, I would have never got the funds to do it. I made Trevico-Torino (viaggio nel Fiat-nam) with Unitelefilm, the production company of the Communist Party. The language is that of cinema, because what I wanted to make was that of cinéma vérité, like France and Latin America were making. Like previous occasions, I used archival footage, which were necessary to support the fiction element. Going back to immigration, I think that to make certain convincing works, one doesn't need to be Manichean ever.
Why do you make films? Do you think that they have a purpose?
A film is a tale, an irreplaceable means of communication, it corresponds to the written page but has a language which is accessible to everyone, in order to understand it one doesn't need the skills required to read Dickens.
There isn't much awareness of the importance of cinema with reference to personal development and to its value as a political tool. TV has taken over because it allows to reach a very wide audience of electors. In any case, the large audience that sits in front of the telly is distracted and doesn't pick up too much from that, because the level of attention required by television is very different from that of cinema. Cinemovel's commitment goes back to Zavattini's idea to give a camera to everybody so they can tell their tale; its value is even greater because it carries ideas and emotions that television can't give. It would be interesting to experiment it in Italy in those suburbs where cinemas have shut down or where there are only multi-screen cinemas. The universal laugh that The Tramp can raise explains the role that cinema has had and can have, because cinema deals with themes that are intrinsic to human beings of all times and all continents.
What are the programme for Cinemovel's future and those of Ettore Scola?
After Mozambique and Morocco, Cinemovel is still in Africa: there is an important travelling cinema project in Ethiopia, to promote a campaign against female genital mutilations, which is facing some problems. The collaboration with Libera, the cooperative founded by Father Luigi Ciotti, keeps going; this is "Libero Cinema in Libera Terra", a caravan through the lands seized to mafia in the South of Italy.
As for me, I will follow with interest the activities of Cinemovel; it demonstrates to be able to establish a contact with the reality of the places it visits that goes beyond cinema. 
I have also started to do the most rewarding job of my life: I have become a professional reader. Since I found again the cognition of time, I spend it reading, thinking, reading again.
* Mozambico dove il cinema / Mozambique where cinema goes – Directors: Nello Ferrieri, Raffele Rago; screenplay: Elisabetta Antognoni, Nello Ferrieri; Italy, 2002, 82 minutes; Italian – English subtitles.