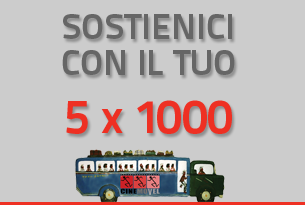 You can support Cinemovel's activities through your tax returns (with 5 per 1000), at no cost to you.
To support Cinemovel's activities through the donation of 5 per 1000 of your tax returns just sign the box in the forms 730, Unico and Cud, in the section aimed at supporting not for profit associations, with the following description: "sostegno del volontariato e delle altre organizzazioni non lucrative di utilità sociale, delle associazioni di promozione sociale e delle associazioni e fondazioni riconosciute…""
Under your signature please write the codice fiscale of Cinemovel Foundation:
91305730375
The same donation can be done also by employed people that don't fill in their own tax returns; just hand in the 5×1000 form to a post office or bank and they'll send it for free to the tax agency.
A BIG THANK YOU to all the people that will support the activities of Cinemovel Foundation.