Travelling cinema festival against mafia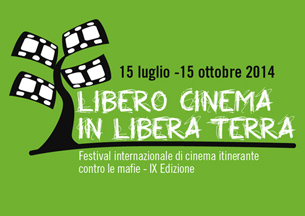 We are currently working on the programme of the locations, films, meetings and events of the 9th edition of Libero Cinema in Libera Terra, the travelling cinema Festival against all mafias which will take place from July 15 to October 15 in Italy, Germany and France.
In the coming weeks we will publish the programme of this unique festival, which sets up film screenings in public squares and in the land and properties seized from mafia and returned to legality, with the aim of promoting the widening of democratic spaces.
In the past eight years the caravan of Libero Cinema has travelled for more that 60,000km to take the emotions of cinema directly to people and to speak about beauty, culture and legality.
The 100th stop-over was celebrated last year at Portella della Ginestra, where the first even screening had taken place in 2006 with the young people of the cooperative Placido Rizzotto – Libera Terra. Following the principles of a healthy and legal economy, the members of the cooperative farm more than two hundred hectares of land which formerly belonged to mafia; they produce durum wheat pasta and excellent wines under the brand called Centopassi. In the village of Portella the cooperative manages a rural house seized from mafia boss Giovanni Brusca, which has been returned to legality and today is "cosa nostra", a shared, fair, clean and legal asset of the community; the cooperative members turned the building into a farm house and there we held our 100th screening, with great emotion.
---
Watch the images of the 100th stop-over with Gianluca Faraone (Libera Terra Mediterraneo) and Umberto di Maggio (Libera Sicilia)
---
Read "100 di questi viaggi, 100 di queste piazze" by Umberto Di Maggio, on Articolo 21
Free supporters
Libero Cinema in Libera Terra has launched a manifesto.
The first people to sign it have been Ettore Scola and Luigi Ciotti, followed by:
Giuliano Montaldo, Matteo Garrone, Paolo Sorrentino, Silvio Soldini, Giovanni Impastato, Massimo Cirri, Filippo Solibello, Pasquale Scimeca, Luigi Lo Cascio, Lella Costa, Giuseppe Piccioni, Esmeralda Calabria, Andrea D'Ambrosio, Peppe Ruggiero, Davide Barletti, Lorenzo Conte, Paolo Benvenuti, Paola Baroni, Patrizio Esposito, Nello La Marca, Carmine Amoroso, Emanuele Piano, Luigi Abramo, Piero Pelù, Erri De Luca, Guido Chiesa, Enrico Palandri, Gabriella Ghermandi, Maurizio Carrassi, Maria Pia Vigilante, Luciana Nardelli di Leo, Viviana Bello, Rita Pitardi, Leo Cirasola, Stefania Casini, Sandrine Mazzola, Vito De Canzio, Giovanni Scalia, Francesco Paolo Bennici, Andrea Bagnale, Giulio Manfredonia, Angelo Barbargallo, Marco Risi, Giulietto Chiesa, Ruggero Gabbai, Stefano Incerti, Francesco Patierno, Salvatore Fronio, Marco Turco, Riccardo Biadene, Andrea Segre, Dagmawi Yimer, Carlo Lucarelli, ANAC – Associazione Nazionale Autori Cinematografici, Addiopizzo Catania, Felice Laudadio, Modena City Ramblers, Sabina Guzzanti, Alberto Puliafito, Roberta Torre, Fernando Muraca, Michelangelo Frammartino, Firouzeh Khosrovani, Antonio Pecoraro, Ascanio Celestini, Andrea Meccia, Giuseppe Gagliardi, Claudio Cupellini, Francesca Portalupi, Laura Halilovic, Guido Iuculano, Marco Chiarini, Daniele Lucchetti, Paola Randi, Pietro Marcello, Daniele Gaglianone, Giorgia Cecere, i Rosso Malpelo, Elio Germano, Roberto Faenza, Daniele Vicari, Valerio Mastandrea, Daniele Incalcaterra, Leonardo Di Costanzo, Carlo Cresto-Dina, Fabrizio Grosoli, Costanza Quatriglio, Mario Zanot.
Join us by contacting: info@cinemovel.tv
Photogallery