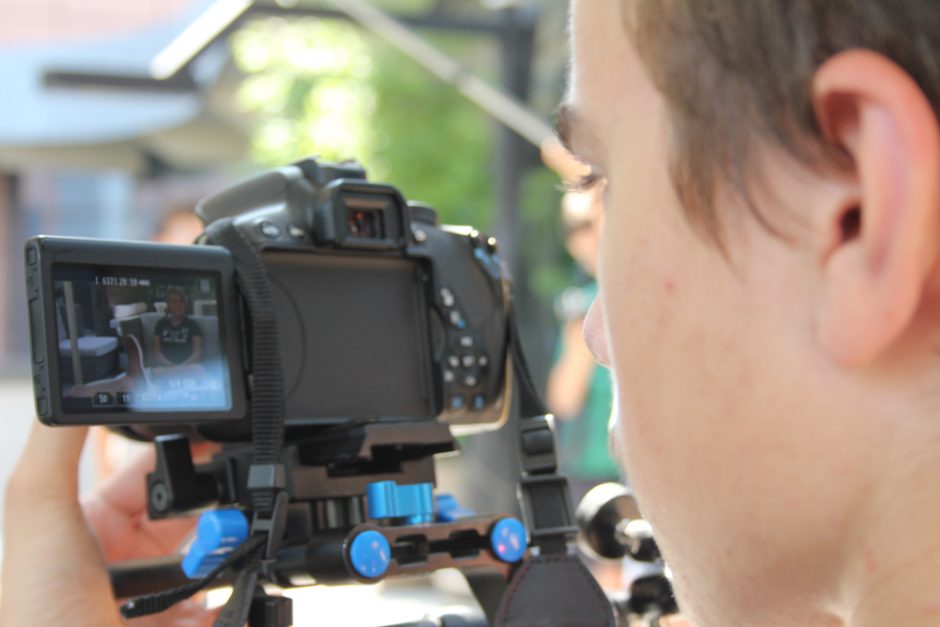 "We are here!", with the students of Istituto Battaglia of Norcia – "What will our future be, will we have prospects, will we still be able to live in this place? We feel at the mercy of destiny, in a state of suspension, and, at the same time, more mature. To get out of it you have to mature, you have to be strong and think that we are still here!"
Noi siamo qui! – We are here! is an audiovisual documentation workshop designed to give voice and space to a group of teenagers, students of Istituto di Istruzione Superiore "R. Battaglia" of Norcia, who, overnight found themselves without school, homeless and, therefore, without any certainty.
From 3 to 7 April 2017, director Michele Rho, along with film maker Giuseppe Petruzzellis and sound designer Andrea Basti, accompanied the students on a journey dedicated to observing, interpreting and expressing, through images and words, the reality surrounding them, the identity of the territory and changes they are experiencing.
"In my head, adolescence and earthquake are concepts that, though light years apart from each other, for some reason strangely go hand-in-hand," explains Michele Rho. "Both have great destructive force, disrupt certainties and bring about change."
"Our story starts from a mutual exchange where boys and girls give us an unprecedented perspective on how to look into their reality," adds the director. "Together, we try to figure out how their life and community changed, reflect on how much the geography of what they used to call 'city' and of their soul and affective worlds has changed."
From the participants
"When you do not have your home anymore and so many points of reference are gone, it's like being surrounded by fog, you have doubts and feel disoriented. You bond more with people than places, you understand how important it is to spend time with your family; your relationship with your classmates, your gym mates and your friends solidifies."
"I'm afraid that Norcia, with its fame in the world, inhabited by so many young people like us, will become an abandoned place, a forgotten place we will no longer hear about …."
"In the end, the material concept loses meaning, those who are next to you count more than four walls and all the conveniences."
The "We are here!" workshop by The Magic Box is supported by CUBO Centro Unipol Bologna