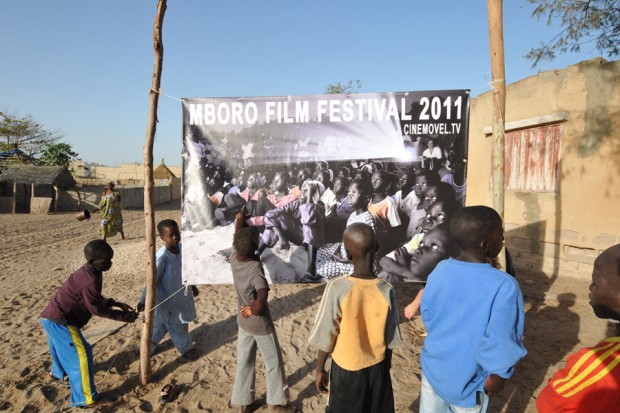 Cinemovel's commitment is so commendable, as it takes inspiration from Zavattini's intuition of giving a camera to everybody to let them tell their stories, and also because it lets emotions and ideas travel in a way the tv cannot do. Facing the laughters universally springing from the screening of Charlot's movie, one can easily understand the importance of cinema, since cinema is able to speak to people from every age and every continent.

Ettore Scola
Cinemovel Foundation has always promoted projects of travelling cinema for health and social communication campaign and wish to present a new project: African Screenings – The community Film Festival. This is a project created to involve local communities and international partnerships to foster free public screenings, training courses for local youth, social communication campaign, with the aim to focus on the value of cinema in between tradition and innovation.
Widespread in several countries, the Community Film Festival takes shape from the pilot project in Senegal. Together with some traveling companions such as the charities Libera, Gruppo Abele, Coe, Italy Uganda, Friends of Mozambique, Cinemovel travels on the African continent  to build the various actions of the Festival in partnership whit the local communities we encounter.
African Screenings is spread over several years and the countries involved in this first phase are: Ivory Coast, Mozambique, Uganda, Cameroon.
After the first journey in Côte d'Ivoire in collaboration with the Abele Community of Grand Bassam, in March 2018, now is the turn of Mozambique and the Community of Inhassoro which will host the Cinemovel troupe in November, in the belief that there is an inseparable link between the democratisation of countries and access to culture, information and new technologies.
The film screen mounted at the center of the village, or in the suburbs, in a refugee camp, becomes the tool to present moving images to the communities from all over the world and, at the same time, an occasion to tell the stories and traditions of that same screen place thanks to free public screenings in which the community can relate and reflect upon its own reality and to the training courses where they are confronted to the new technologies and their ability to tell their own stories.
For some members of Cinemovel troupe is a bit  of a homecoming, as Cinemovel was born as a travelling Film Festival in Mozambique with the the first caravan of Cinemovel in 2001. Watch the Film that tells that adventure here.