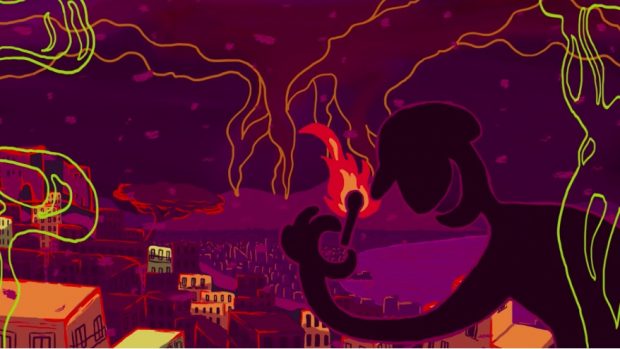 From 5th to 6th October 2018 Artist@Work will be in Ferrara for the Festival of Internazionale magazine.
The 64 works created by more than 80 Italian, French and Bosnian artists as part of the European project "Artists@Work" will be on display at the Grisù Factory in Ferrara (street: M. Poledrelli, 21) from 10 am to 1 pm and from 3 pm to 7 pm daily.
The artists of the panel have chosen to use films, photography and comics to talk about several themes they have experienced like arson attacks on the Vesuvius, gender equality, the Aemilia process, the drug market in the Rogoredo grove area, "agromafie" (Mafia in the agribusiness), or the experience they lived as a volunteer on the island of Lampedusa, youth emigration, urban and social degradation of our cities, immigration and integration processes, juvenile prison, trafficking in human beings, marginalization, loneliness and poverty, and about corruption in all its forms.
These and many other stories narrated by Artists@Work will be discussed in the meeting "Arte di Valore" (Art of Value), which will take place at the Sala Estense on 6th October 2018 at 11.00 am.
The meeting will be coordinated by Daniele Cassandro, journalist of Internazionale, with the presence of film director  Bruno Oliviero and the cartoonist Pietro Scarnera, whom accompanied the Italian artists in the development of their works, together with the photographer Patrick Willocq. The co-sponsor of the project will be represented by Roberta Franceschinelli for Unipolis Foundation and Cecilia Conti for Cinemovel Foundation.
The meeting will also be an opportunity to talk about the free training courses which will take place in three countries: in Italy with training courses dedicated to Audiovisual and Comics, in France with Audiovisual and Photography, in Bosnia and Herzegovina with Comics and Photography. The meeting will be dedicated to reflecting on the role of culture and arts to convey the values ​​of legality, justice and solidarity.
"The images and the words of the French, Bosnian and Italian artists open up a comparison between places, memories, personal experiences and artistic practices, to understand together how you can communicate and you can find common ground to tell the flow of the world around us"(Bruno Oliviero).
The Festival of Internazionale will be the first important occasion to show these works and share their perspective on many different themes, which will then travel through Europe, thanks to an international communication campaign.
Artists@Work was nominated for the 2016 edition of "Europa Creativa", dedicated to cooperation projects. Out of 584 received applications, the European Commission has selected 81 applications.
The works and creative process of Artists@Work are visible on the platform: www.artists-work.eu.