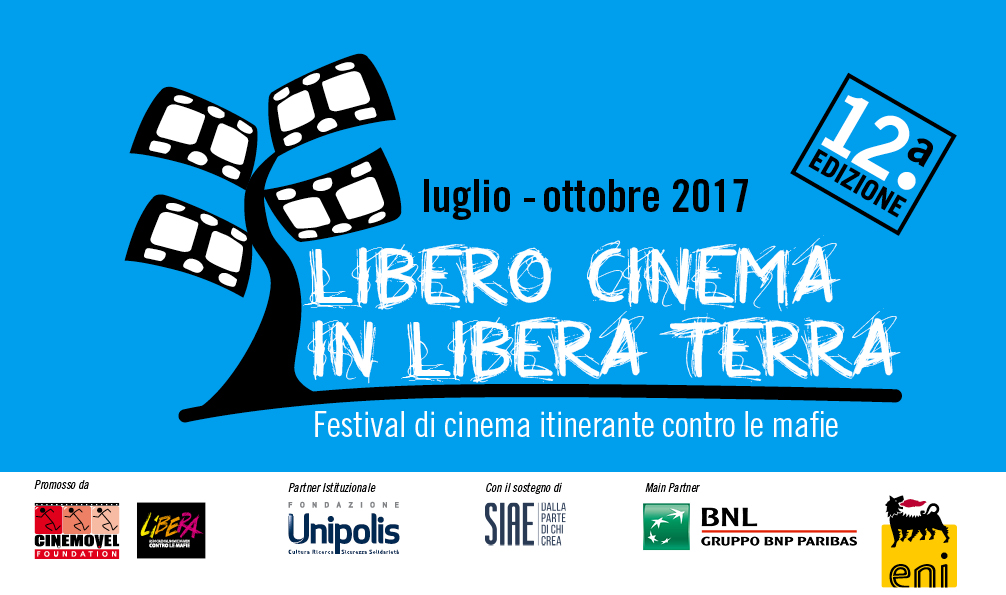 This year, the event for the presentation of the 12th edition of the Itinerant Film Festival against Mafia and of the Estate Liberi Camps is on www.cinemovel.tv (Friday, 30 June, starting at 12 pm). Elisabetta Antognoni, president of Cinemovel, Don Luigi Ciotti, President of Libera, Fabrizio Grosoli, Programming Consultant, Claudio Siciliano, Estate Liberi Camps Manager, Pierluigi Stefanini, Unipol Group and Unipolis Foundation Chairman discuss this event.
The first leg is on 1 July in Norcia in cooperation with Istituto superiore "R. Battaglia", placing the spotlight on the region affected by the earthquake. In Norcia, the Libero Cinema screen will be mounted in the courtyard of the modular school set up after the earthquake. The ribbon will be cut at 8 pm with the participation of students, the School Principal, Rosella Tonti, and Director Michele Rho, to tell about the educational and creative journey realized with Cinemovel Campus and supported by Cubo Unipol Bologna, which produced the short film We Are Here!, giving voice and spaces to a group of teenagers, who overnight found themselves without school, homeless, and, therefore, without any certainty. Elisabetta Antognoni, Cinemovel President, and Walter Dondi Unipolis Foundation Director will also take part in the event.
The short film will be followed by viewing of the movie La Guerra dei cafoni by Davide Barletti and Lorenzo Conte, also attended by producer Daniele Di Gennaro.
From 1 to 23 July, the caravan of Libero Cinema in Libera Terra will make stops in Umbria, Emilia Romagna, Lombardy, Liguria, Campania, Calabria, Sicily and Apulia. Two thematic camps of Estate Liberi will be tied to the Festival in the cities of Bari and Mesagne, from 17 to 23 July. At the end of summer, the caravan will resume its journey, with stops on 29 and 30 September in Ferrara, at the International Festival, and finally fold tent in Paris on 13 October, with Atelier Varan, the historic documentary school, born like Cinemovel in Mozambique.
Libero Cinema in Libera Terra is promoted by the Cinemovel Foundation and Libera – associazioni nomi e numeri contro le mafie – associations, names and numbers against Mafia; Unipolis Foundation is its institutional partner. The Festival is produced with the support of SIAE; Main Partners: BNL Gruppo BNP Paribas, Eni; Joint Partners: Coop Alleanza 3.0, Unilog Group.